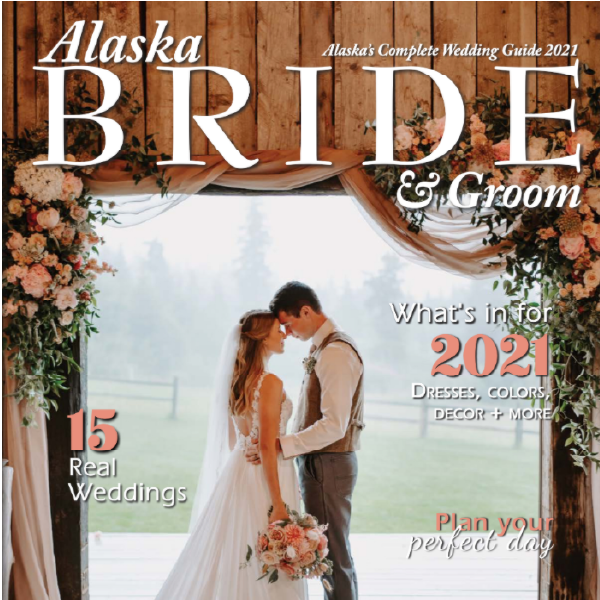 Alaska Bride & Groom
Bride's name: Kamry Ella Meyer
Groom's name: Levi Bradley James Hensley
Occupation: Kamry is a barista and Levi is an electrical
apprentice
How they met: "In high school we were friends. We both
moved out of state and grew up a lot. We came back home and reunited "
The proposal: Levi took Kamry down Cannery Beach Road in Kenai and proposed during a beautiful sunset
Number of guests: About120
Wedding colors: Slate blue, grey, white
Most memorable moment…
For her: "Walking down the aisle with my dad to my loving husband And seeing everyone who showed up for us was so special "
For him: "Our dance together "
Unique aspects of the day: "Before my grandpa passed away he cut
some beautiful pieces of wood and that's what my family used to build our arbor," recalls Kamry. At the
the reception the couple set up a unique French fry bar "It was amazing!" The guests also enjoyed the open bar, the fun DJ-hosted dance floor, and the beautiful cupcakes.
Funniest moment: Levi's groomsmen played harmonica and Levi performed "Piano Man" by Billy Joel." Alcohol may have been involved but every note was
perfect, they sounded famous. Everyone was cracking up!"
Three words that best describe
their day: "Beautiful fun loving "
If they had the chance to do it again what they would do differently: "I would do the pictures before the wedding started," says Kamry.
"We did them after the ceremony and I felt bad not being able to say hi to all our guests and some of them left before we made it back for the reception."
What Kamry loves most about her husband: "How much he loves his family and shows his love for me I never doubt that I'm loved."
What Levi loves most about his wife: "How she always sees good in
every situation."
Best piece of advice for a couple planning a wedding: "Don't stress on the little things because little things won't matter at the end of the day. Take time for just the the two of you during the day–even if it's just walking away for a minute and soaking up YOUR day. When
there are so many people it's easy to get overwhelmed or forget to soak in the special day."
–The Details–
Photography: Brittney Ray Photography • Ceremony & reception site: The Cannery Lodge • Cake: Rosie's Cake Pop Palace (Shelby Dykstra) • Catering: Main Event Catering • Wedding rings: Fred Meyer Jewelers Etsy • Wedding coordinator: Kelsey Meyer • Flowers: Tundra Rose • Bride's dress: Anderson's Bride • Bridesmaids' dresses: David's Bridal • Groom's & groomsmen's formalwear: Anderson's Bride • Hair & makeup: Jasmin's Hair Design (Liz) • Officiant: Nate Lamb, Birch Ridge Church • Entertainment & music: Five Star Entertainment • Accommodations: The Cannery Lodge • Honeymoon destination: Alyeska Resort, Girdwood